Taiwan Business Bank
Find contact information of Taiwan Business Bank: official web-site, address, phone numbers, products, reviews about bank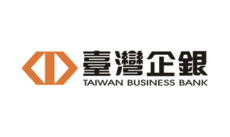 Bank group:
Head office's address:
Suite 3, Level 24, 363 George Street
Mail address:
Suite 3, Level 24, 363 George Street
Taiwan Business Bank network:
More about bank
The forerunners of the Taiwan Business Bank were two private savings organizations, one established in Taipei in June of 1915 and the other in Tainan in July of the same year, following the traditional practice of forming cooperatives.Following the restoration of Taiwan to the Republic of China on Oct. 25, 1945, these two organizations and two more savings cooperatives were taken over by the Taiwan Provincial Government and, on Sept. 1, 1946, were reorganized to form the Taiwan Mutual Financial Co., Ltd. On May 31, 1947 the Taiwan Mutual Financial Co. absorbed the Tokiwa Real Estate Co., Ltd., and reached an accumulated capitalization of $10 million former Taiwan dollars. On June 1, 1947 the name of the company was changed to the Taiwan Provincial Mutual Loans and Savings Co., Ltd. Then, because of the similarity of its business to that of a private cooperative, the name was changed again in January 1948, to the Taiwan Credit Cooperative and Savings Co., Ltd.Following the promulgation of the revised Banking Law in 1975, the company was reorganized, on July 1, 1976, into the Medium Business Bank of Taiwan in line with the government's overall economic policy and the provisions of the revised law. It was the first specialized bank established by the government for the purpose of providing financing assistance and guidance to small and medium-sized enterprises.To cope with the liberalized and internationalized financial environment,and to conform to the government's policy of privatizing state-owned enterprises,the TBB was transformed into a private bank on Jan.22,1998 and entered a brand-new age of operations. The Bank's domestic branch network covers the whole island. In additon there are five overseas units,including Los Angeles Branch in US, Sydney Branch and Brisbane Branch in Australia,Hong Kong Branch in Hong Kong,Shanghai Branch in China.Under existing foundations,the bank will endeavor to create new heights of business performance.The whole staff will unite to confront challenges,respond to economic movements with great confidence and swiftness with the aim to fulfill our future vision together and pay homage to our precedent staff.
Give feedback