First Commercial Bank
Find contact information of First Commercial Bank: official web-site, address, phone numbers, products, reviews about bank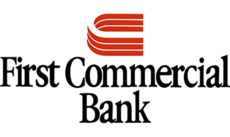 Bank group:
Head office's address:
199 George St, Brisbane City QLD 4000
Mail address:
199 George St, Brisbane City QLD 4000
Email:
fcbbne@firstbank.com.au
Web-site:
www.firstbank.com.tw
First Commercial Bank network:
More about bank
First Commercial Bank was originally established on November 26, 1899 as Savings Bank of Taiwan. In 1912 it merged with Commercial and Industrial Bank of Taiwan, retaining the name of the latter, and in 1923 it again merged with Chia-I Bank and Hsin-Kao Bank. In 1947 its name was changed to Taiwan Industrial and Commercial Bank, and in 1949 it was renamed as First Commercial Bank of Taiwan. Finally, in 1976, it was given its current name, First Commercial Bank, in order to strengthen the operating strategy of business internationalization. On January 22, 1998 the Bank was transformed from a government entity into a private bank. After the establishment of First Financial Holding Co. on January 2, 2003, the Bank became a subsidiary of First Financial Group. The Bank has now been in business for more than a century.
Give feedback