Teachers Mutual Bank
Find contact information of Teachers Mutual Bank: official web-site, address, phone numbers, products, reviews about bank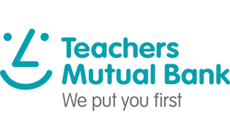 Head office's address:
28-38 Powell Street
Contact center:
13-12-21
Phone:
61-2-9735-9111
Mail address:
PO Box 7501, Silverwater NSW 2128
Web-site:
www.tmbank.com.au
Teachers Mutual Bank network:
Teachers Mutual Bank in social networks:
More about bank
At Teachers Mutual Bank we have been helping members make the most of their money and their careers since 1966. With over 159,000 members and $4 billion in assets we are dedicated to providing financial products and services exclusively for teachers, their families and the education sector.At Teachers Mutual Bank we exist for the mutual benefit of our members, which means everything we do is to ensure you, our members, have a brighter future.
Give feedback
Funny video
2-year-old kid likes to throw. Look what happened when his parents bought him a basketball ring!